Chester Wheelers Mountain Trike Experience Centre
27th January 2021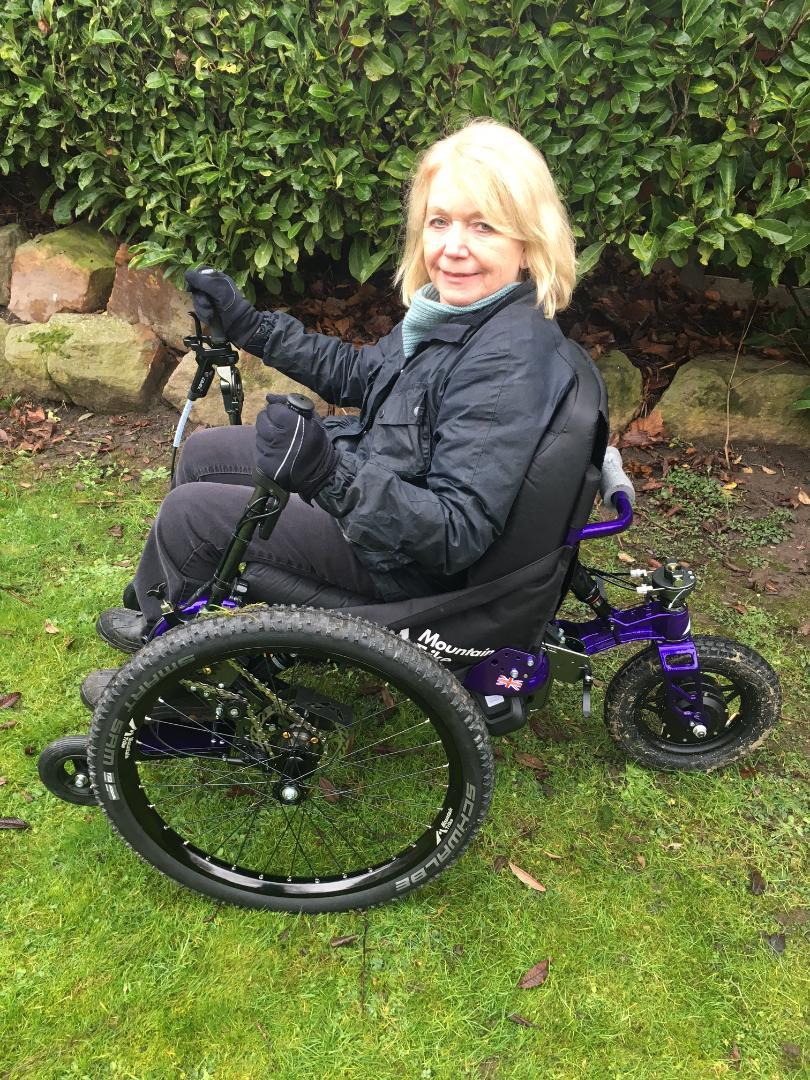 Chester Wheelers is our latest Mountain Trike Experience Centre. It offers individual demonstrations and skills training to encourage and enable other 'MT Wheelers' to be active and experience for themselves the joys of exploring country parks, accessible cycling and walking pathways and outings to accessible cafes and places of interest, to get outdoors and enjoy a variety of natural surroundings and attractions.
Demonstrations can be arranged for individuals on a try-before-you-buy basis so that the benefits of the Mountain Trike (independence, fitness, social, fun) can be experienced firsthand and prior to any purchase. In addition they provide information about joining other MT events around the country and details of venues where MT equipment can be loaned, such as at National Trust properties, country shows, hire centres and accessible holiday accommodation.
The Covid pandemic has presented a few challenges in terms of group gatherings but Chester Wheelers have been using their time productively to develop connections with hire centres, inclusive cycling clubs and through working with the local council to raise awareness of the types of barriers restricting access for all. Now with the help of interactive maps and videos, route information can be provided about types of terrain and graded difficulty. The facilities available such as accessible parking, toilets, changing rooms, cafes and access to MT loan equipment.
It's hoped it will not be long before events can be organised and they can get out again and share with others, the excitement and freedom of independence the Mountain Trike allows.
Chester Wheelers have an eTrike all terrain wheelchair available for people living in Chester and the surrounding local area.
Chester Wheelers Facebook page coming soon.
Any questions contact Eileen directly by email.
chesterwheelersMTexperience@gmail.com
Check out the below videos of Eileen having a fabulous time out and about with the Mountain Trike - her joy says it all really!
Also scroll down to find out a little more about Eileen and her passion for wanting to share her experiences and joy of getting to visit new places with wheelchair users.
Loggerheads Country Park
On a very wet and windy day, Eileen took the Mountain Trike to Loggerheads County Park. This was her first real experience of this sort of terrain and despite the rain had a wonderful time.
Ness Botanical Gardens
Eileen longed to visit the gardens and attempted using her standard wheelchair last year but had to give up because of the discomfort caused by the gravel and steep terrain. However, with the Mountain Trike Eileen has been back a few times and has got to see some of the garden's most hidden places.
ABOUT EILEEN...
I was sixteen when I discovered I had scoliosis causing a severe curvature of the spine (100 degrees) in my lower back, along with associated muscle and nerve damage to my left leg. I was shocked by the news and horrified when I saw my x-ray showing a large 'C' shape in my lower spine. I was advised that urgent surgery was necessary to fuse my spine otherwise I might soon be paralysed.
Those of you who remember 1976 will know it was the hottest summer on record - not the best time to be encased in plaster from head to hips and confined to a hospital bed for 9 months. However, that's exactly where I spent my 18th birthday, I had endured three extremely painful attempts of being hung and stretched for the plastering process required to straighten my spine and encase me in a plaster jacket. Followed by surgery to fuse my spine and fit rods. Eventually, the jacket was removed and I was fitted with a metal/leather body brace from head to hips, given two sticks and sent home where I could practice learning to 'walk' again. Unfortunately the rods soon snapped and had to be removed. I was told there was nothing else that could be done for me and I had to learn to live with my constant spinal pain.
Ignoring my physical limitations, I trained as a teacher of the Deaf and audiologist and spent many happy years, specialising in working with deaf/blind/children with complex additional physical disabilities (and having two beautiful children of my own), until I reached the age of fifty, by which time I had developed chronic osteoporosis and due to increasing levels of spine and leg pain, was forced to give up my career and became wheelchair dependent which I found caused me unbearable discomfort. I was reviewed by a spinal consultant who said it was incredible that I was not paralysed as my 'remarkable' MRI scans showed that my spinal cord was split and nerves were tethered at the base of my spine causing a rare condition called 'diastematomyelia'. This condition from child hood had prevented my spine from growing straight and was the cause of the failure of the torturous stretching procedure and surgery. He advised that it was now too risky to correct the problem or give me spinal injections to reduce my nerve pain. The only alternative was oral medication or morphine patches which I was reluctant to have because I knew it would result in me being sedated and bedridden and I would no longer have any chance of an active life with my family and friends.
I was determined to find a way of keeping as mobile and healthy as possible. Over the past 12 years I have gained a tremendous amount of experience and knowledge in learning how to manage my health, get fit and enjoy an active life style using various mobility aids, the first being my discovery of cycling using an adapted e-bike. It gave me so much joy and freedom as I experienced the independence of exploring country cycle paths and cafes with less pain than I had using a wheelchair. Unfortunately, I also encountered the difficulties caused by restrictions to using my cycle as a mobility aid on pedestrian only areas where there were signs demanding 'CYCLISTS DISMOUNT' which obviously causes a problem if you are unable to walk. There were also barriers and cattle grids on country paths I couldn't manage and other places I was not allowed to cycle around such as Chester Zoo, or local country gardens and parks where I found it too painful to use a wheelchair.
I had tried many types of wheelchairs with different types of wheels and ways of propelling them but could not find the right one until I discovered the Mountain Trike, propelled by hand levers. As soon as I sat in the comfortable seat and felt no pain when I went over the curb onto the grass I immediately knew that it would make all the difference and a trial session confirmed this for me. Having an all terrain, 'walking-wheelchair' enabled me to enjoy such incredible, invigorating sensory experiences with my family and friends. I could now go on the beach, on muddy, bumpy terrain have fun in the rain and not worry about the weather or being dragged in a wheelchair over gravel or cobbles.
I wanted others to be able to enjoy similar experiences for themselves in the hope that it would also help them overcome their chronic pain by improving their comfort, mobility, health and quality of life. This led to me meeting with other groups of wheelchair users and disabled cyclists at inclusive cycling centres around the country, visiting accessible venues and being involved with campaigns to raise awareness for improving facilities for 'wheelers' with the local council.
---
---
---